Description
The Tour AD MJ, designed and manufactured at the Graphite Design Japan factory headquarters, is available in 50g R2, R1 and S flex, 60g SR, S and X flex, 70g S and X flex and 80g S and X flex. The Tour AD MJ utilizes premium, aerospace quality 50t carbon-fiber materials to provide the best performing shaft available.
The sixth version of the Graphite Design Tour AD driver shaft line released in 2015. We got an early look at the 10 shafts in the MJ series. They range from 53 grams to 87 grams uncut. The profile is consistent through out the weigh range, each weight/stiffness increment has exactly the same bend profile. They simply get heavier, stiffer and have lower torque.
Since the original Tour AD DI, the Graphite Design AD DI series has had a mid shaft stiffness 'bump'. Each model has varied the degree and position of this mid shaft stiffness design.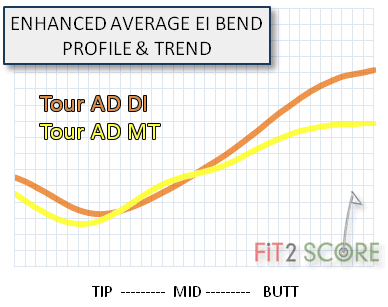 They have all started with a relatively stiff butt section. This is the first to soften the handle. The overall design of the shaft is very similar to the 2014 Tour AD-MT design as you can see in this illustration. Is has a softer butt. In my fitting experience this design, soft butt / stiff mid is a good fit for a player that starts the downswing with a good hip move with a stable upper body. The soft butt loads for the golfer whose transition force is generally down the shaft. He takes this stored energy to a strong mid swing shoulder turn where the mid shaft stiffness stabilizes the shaft in preparation for the elbow and wrist uncocking. I would expect many good players that have been under whelmed with the Graphite Design AD family will find this one adds a little distance along with dispersion control.
Designed with a softer tip and stiffer mid to butt section to promote a higher launch condition and low/mid spin, the Tour AD MJ also utilizes the 3rd generation version of the Toray NANOALLOY material technology known as "DI Technology" in the tip section of the shaft for additional shaft stability, exceptional feel and precise ball control. Try the new Tour AD MJ, it might just make a MAJOR impact on your game today.
For a full review of this shaft visit Golf Shaft Reviews